Copy your IMAP account's contents and folders over to EDIS.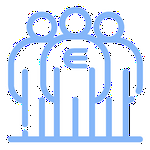 Updated by Gerhard Kleewein
Sync your IMAP account over to EDIS
In order to make the migration of your existing IMAP mailboxes from your previous email provider or mail server to EDIS as comfortable as possible, EDIS offers a convenient migration/sync tool.
It doesn't matter how big the mailbox is, or whether there are complex folder structures. EDIS IMAPSYNC tool gets the job done for you.
We recommend that you carry out a preliminary synchronization of your mailboxes before making the switch to EDIS, and then do a final synchronization afterwards.