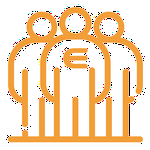 Updated by Herman Beitsma
The primary reason for setting up an SPF record is to prevent SPAM from being sent from a domain name. An SPF record defines which IP addresses shall be allowed to send email for a domain name and how receiving mail servers must treat emails originating from non-permitted IP addresses.
The standard SPF record set by EDIS for newly registered domains looks like this:
@ TXT "v=spf1 a:spf.edis.at -all"
For a less restrictive (neutral) variant, use ~all instead of -all

~all accepts and delivers email originating from non-allowed IP addresses
-all rejects email originating from non-allowed IP addresses
The primary reason for an SPF record is to prevent SPAM via the own domain name, thus the strictest setting -all is recommended.
Use this example as a base for your own configuration and extend the configuration according to your needs. For example, the entry must be expanded to include the e-mail server of your newsletter sender or other (non-EDIS) services that will send e-mails externally for your domain.
All e-mails sent via EDIS web hosting and mailrelay.edis.at (authenticated SMTP) are covered via the standard EDIS SPF record.
Additional information on the correct use of the SPF syntax can be found at https://de.wikipedia.org/wiki/Sender_Policy_Framework
Never use individual IP addresses in the SPF record, as this inevitably leads to errors! Please always use a reference to spf.edis.at as shown in the example above. EDIS updates its list of IP addresses that are used for sending emails on a regular basis.