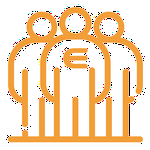 Updated by Herman Beitsma
A domain name can be used with Jimdo without having to transfer it away from EDIS.
This is practical because you don't have to give up any of your existing EDIS email services.
Step 1: Preparation at Jimdo
Indicate (announce) your domain in the Jimdo dashboard. You will then find information on where to point your domain name to. Look out for CNAME or A-record DNS settings.
We recommend working with CNAME records, but A-Records will do too.
Step 2: Change the DNS setting in the EDIS panel:
Login to Client Area > Domains > DNS Editor.
Configure the CNAME record found in the Jimdo dashboard, or set the A-records as indicated.
It will take around 15 minutes for the changes to take effect.
Please note that Jimdo does not support IPv6. If you chose to work with A records instead of CNAME records, existing AAAA records for IPv6 have to be removed.