ANYCAST, create user for PDNS-Admin dashboard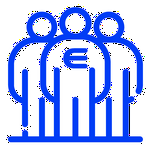 Updated by Reinhold Friedl
EDIS ANYCAST PowerDNS Admin
PowerDNS-Admin is our new DNS portal that can be used as a standalone tool, without having to log in to the customer area. The username for the platform is your 5-digit customer number.
In order to be able to use the tool, a password must be set for the first login.
In Client Area click -> Domain -> DNS User
Set a new password (it only applies to the PDNS-Admin)
Please note the password syntax:

at least 10 characters, at least 1 number, at least one lowercase letter, at least one uppercase letter
After you have set a password, you can log in to PowerDNS-Admin with your customer number and the new password.
The OTP token field does not have to be filled out when logging in for the first time!
2-Factor Authentication (OTP token)
After you have successfully logged in, you can activate 2-factor authentication. For security reasons, we recommend activating 2FA.
Um 2-Faktor-Authentifizierung mittels OTP-Token zu aktivieren,
klicken Sie auf "My Profile" -> "Authentication".

Complete your profile and set a secure password
You can complete your profile in the dashboard and change passwords directly in the portal. Please consider using 2-factor authentication using OTP tokens.